Category Archives:
MPOW TWS Earbuds
Mpow Flame Pro: Best Earbuds for Sports & Calling
Mpow is one of the best headphones and accessories brands in the market, especially when it comes to budget-friendly products. The Mpow M30 Plus is one of its best in-ear headphones suitable for the person on the move. It is the highest selling earbuds on Amazon so far in 2020. 
With M30 Plus, true wireless earbuds, you can get excellent performance, waterproofing, and long playtime without breaking the bank. Here, Our team at Dab Lew Tech will be reviewing the latest headsets, its performance, design, and features to see who they are the right fit for. Read on ahead to see if these are the headphones that you should buy.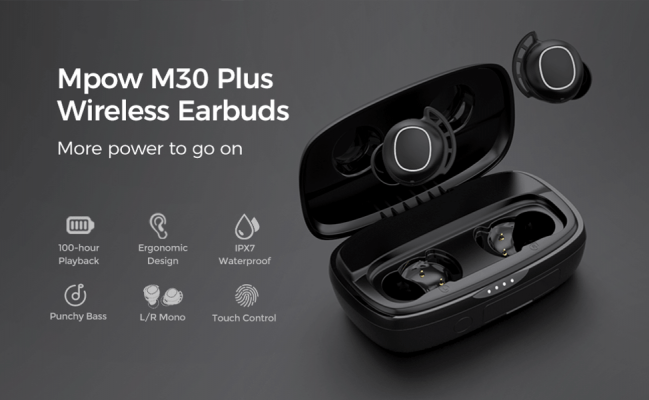 Mpow M30 Plus Specs & Review
Sound Quality & Calling
The Mpow M30 Plus earbuds offer the perfect combination of extreme bass, great depths, and clear sound separation. The audio has a spatial feel and a balanced bass that is unlike Mpow's other earbuds. However, the true wireless earphones are more directed towards music then calling. The audio quality during calls is satisfactory and clear, but there may be an occasional crackle due to interference. 
Design & Comfort
The Mpow M30 Plus is designed for everyday use. They are very comfortable and perfect for working out. The fit in tightly like any headphones with sports wings, but way lighter than most other earphones and a lot more comfortable. You can wear these for hours without problems or discomfort. However, the combination of spaciousness, balanced bass, and clear sound, is excellent for working out.
Battery Life & Charging Case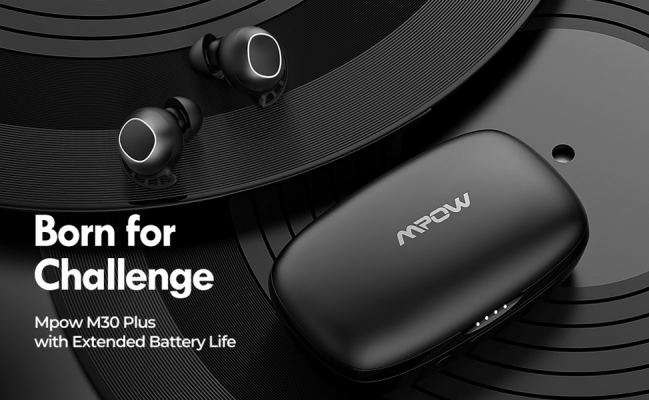 The best thing about the Mpow M30 Plus is that it comes with a charging case that can also act as a power bank, capable of recharging the earpieces up to 20  times. And it can also charge your smartphone as well. The earbuds have a stable 5 hours battery life.
Connectivity & Controls
You control the Mpow M30 with the touch panels on the sides. The touch sensitivity is well-adjusted, and the control scheme is quite convenient. You need to press either of the buds once to play or pause the music. To skip a song, tap the right bud twice and double-tap the left earpiece to return a track. The best part! With three taps on either of the sides, you activate the voice assistant on your phone as well.
The connectivity of these earbuds is also excellent. The Bluetooth 5.0 connection holds up to ten meters. You can also instantly switch between listening to one and two earpieces – so it's possible to charge an earpiece while listening to the other.
Mpow M30 Plus Specification
Bluetooth 5.0

IPX7 waterproof (heavy rain and sweat resistant)

5 hours listening on a full charge

5 hours to full charge

The charging case can charge earpieces fully 20 times

Comes with six sizes of ear tips and USB-C cable

Three sizes of ear tips for a custom fit (S/M/L)
How to buy Mpow M30 Plus in Pakistan

If you are looking for the latest Mpow M30 Plus in Pakistan, the best place to shop at is Dablew.pk. The site is the official seller of Mpow in Pakistan, so you are guaranteed quality and original products.
Dablew.pk also offers warranty so that if you get a damaged or faulty product, you can easily have it replaced by the store. Click here to purchase your very own Mpow M30 Plus now from Mpow official store in Pakistan.
So that' was all about the budget-friendly Mpow M30 Plus. It's an outstanding headset with all the best features, incredible audio, and overall sound performance. I hope you liked the review and found the right headset for your music needs.
About Author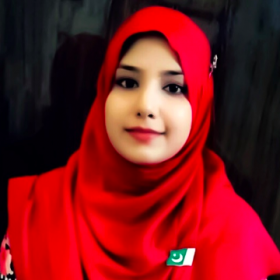 Rimsha Salam is a tech-enthusiast, writer, blogger, ex-quality assurance engineer, and freelancer. She writes on the latest tech trends, gadgets, Information technology, and more. Always eager to learn and ready for new experiences, she is a self-proclaimed tech geek, bookaholic, introvert, and gamer.
Dablew.pk is the upcoming branded tech store on the verge of conquering the e-commerce market. Here you will find products from many online stores from around the world. From amazon Hot sellers to AliExpress top sellers in Pakistan, you name it, we have it. Our goal is to be the best tech store in Pakistan, in order to give you best online shopping experience in Pakistan. Our products range is something we take pride on. We like to cater to all our loyal customers out there. We deal in cheap original tech products as well as premium high-end products. When you visit our website, you will see the hottest selling products in Pakistan, Products on sale, new arrivals as well is featured products. Dablew is your go to place to find the best technology related products on Pakistan. Coming on to the Brands we sell. We have official stores of multiple brands such as QCY official store, Tronsmart official store, MPOW official store, Apple official store, Minix official store, Xiaomi official store and xiaomi original products, Ravpower official store, Anker original products, anker official store and Whitestone Domes. Quite a list, isn't?. Finally, we are known to provide customers with best TWS earphones, best earbuds and best headphones in Pakistan. Our newly introduced brand in Urban armour Gear (UAG), JBL original products and JBL official store, Soundpeats original products and soundpeats official store, Spigen phone cover, spigen phone protectors, spigen official store and 1more official store. This is because we realise how important Music is for our customers. And top it off, We provide FREE cash on delivery on all your purchases above Rs. 3000
Many customers had been asking us to introduce earbuds with long lasting battery life. Hence, our team at Dab Lew Tech decided to introduce the MPOW M20. M20's are medium-priced truly wireless earbuds. They have one of the most impressive batteries for wireless earbuds that we have seen. In itself, they last around 6 hours, but their charging case provides an extra staggering 100 hour of playtime. Additionally, the case also functions as a power bank allowing you to charge other devices like your smartphone for instance. HOW COOL IS THAT?!
The audio performance is quite good with a clear emphasis on the bass sound, everybody loves bass. They combine a proper, comfortable fit with an IPX7 rating, meaning that they are also suited for running or other sports. The earbuds use touch controls instead of buttons, which is a nice plus as well.
Comfort:
First off, the MPOW M20 is incredibly lightweight. This is why plastic is often a great choice. They are comfortable to wear for long sessions and at times, you might even forget wearing them. The fit is surprisingly good. So good that the earbuds remain in place even while swimming. They of course also stay in place when running or working out as well.
They have touch controls instead of traditional buttons meaning that you will not accidentally push them too far in your ears. The controls are very easy to get used to, once you use them for a few days. Furthermore, the buds are also comfortable to take out or put into your ears despite being rather large.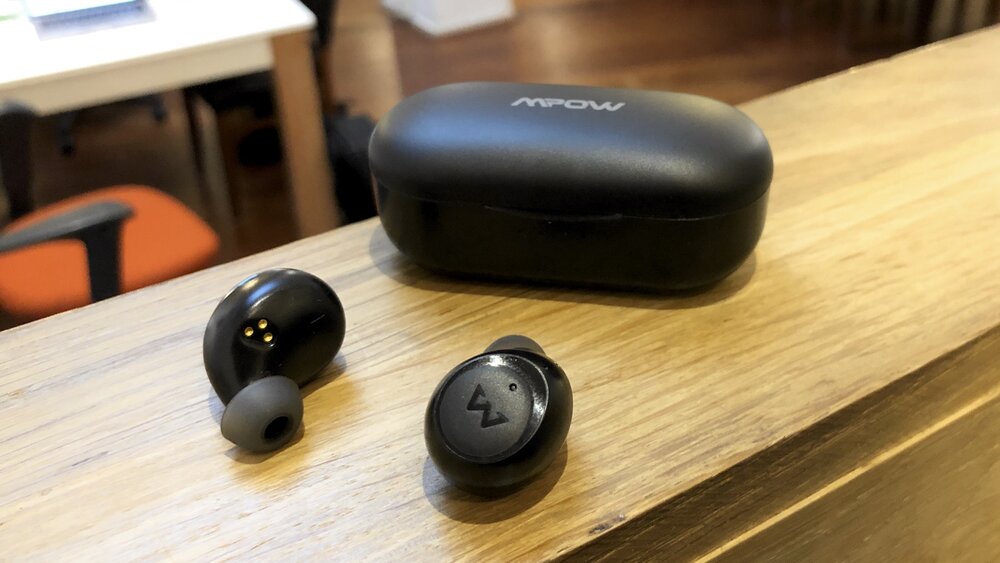 Design & Build Quality
The build quality on both the earbuds and the charging case is great. The case is of medium size so it should still be able to fit in most pockets. Plastic is the weapon of choice for the case and the earbuds. This keeps the weight down so it's of great choice. The magnets inside the case hold the earbuds well in place, they are easy to take out or put in the charging case. The earbuds have an IPX7 rating, which does make them a very good choice for sports as they can handle water or sweat. The design of the MPOW M20 looks good. They have the traditional earbud shape with MPOW "M" logo on the back of each bud. Both the case and the earbuds have a matte black finish. The finish looks nice making them appear tight and clean. Because the earbuds look so normal, you can wear these in professional environments without looking out of place.
Battery Life & Wireless connection
Bluetooth 5.0 establishes the wireless connection between the earbuds and your phone. This is a stable connection and it synchronizes properly between the two buds. The Bluetooth connection does not suffer from interference coming from other wireless signals. You get plenty of wiggle room as the connection reaches close to 33ft (10m).
On to probably the most impressive part in this MPOW M20 review. The battery life combined with the charging case is no short of fantastic. In itself, the earbuds have 6 hours of playtime. However, the charging case can fully charge them an additional 15 times before needing to be recharged itself. The case packs 2600mAH. To make it even more impressive, the charging case has the abilities of a power bank. The power bank function is perfect for emergencies. The case uses micro-USB to recharge instead of USB-C.
MPOW M20 Sound Performance
The M20 is very pleasant to listen to if you like a powerful bass sound. MPOW put a clear emphasis on the bass sound. The mids and the treble are both quite great.
Overall, the sound performance is quite good and perhaps even great depending on the music genre. They are of course best for bass-heavy songs or most modern music. The earbuds experience almost no distortion. Furthermore, the earbuds have some natural noise-cancellation because they seal so well inside the ears.
Concluding the MPOW M20 Review
The MPOW M20 has one of the absolute best batteries available on truly wireless earbuds. The charging case that also functions as a power bank is a straight-up homerun. The earbuds are comfortable to wear, and they provide a proper fit. They also have an IPX7 rating, which combined with the clean fit makes them a great choice for sports. The sound performance works best for people that love a good bass sound, but other people can enjoy it as well. With this, we conclude the MPOW M20 review.
Now that you know how awesome this product is, click below and purchase it now!
Dablew.pk is the upcoming branded tech store on the verge of conquering the e-commerce market. Here you will find products from many online stores from around the world. From amazon Hot sellers to AliExpress top sellers in Pakistan, you name it, we have it. Our goal is to be the best tech store in Pakistan, in order to give you best online shopping experience in Pakistan. Our products range is something we take pride on. We like to cater to all our loyal customers out there. We deal in cheap original tech products as well as premium high-end products. When you visit our website, you will see the hottest selling products in Pakistan, Products on sale, new arrivals as well is featured products. Dablew is your go to place to find the best technology related products on Pakistan. Coming on to the Brands we sell. We have official stores of multiple brands such as QCY official store, Tronsmart official store, MPOW official store, Apple official store, Minix official store, Xiaomi official store, Ravpower official store and Whitestone Domes. Quite a list, isn't?. Finally, we are known to provide customers with best TWS earphones, best earbuds and best headphones in Pakistan. This is because we realise how important Music is for our customers. And top it off, We provide FREE cash on delivery on all your purchases above Rs. 3000