Urban Armor Gear Cases are some of the best protective smartphone covers in the market. They are built with military-grade protection and have rugged specifications. Urban Armor manufactures cases for various brands and smartphones like  Apple, Samsung, Huawei, and more. However due its popularity many seller started selling fake UAG cases which made many customers unhappy. However Dab Lew Tech makes sure that our customers get the latest, coolest and ORIGINAL products. Hence our team at Dab Lew Tech, decided to a detailed review of how to identify and differentiate the real UAG cases from the fake. And of-course to buy original phone covers by UAG you can hop on www.dablew.pk
Manufacturers in China are creating fake copy cases that are not certified, don't offer military-grade protection, and are of low build quality. Counterfeit Urban Armor Gear cases are made from low quality material, are not certified, exhibit poor quality, and lack durability.These covers are not covered by UAG's warranty and also don't offer the military grade protection that is available in the original cases.
In this article, we will be highlighting the main differences between fake cases and original ones. This guide will help you buy the right case and not fall victim to counterfeit copies. Dab Lew Tech are official sellers of Urban Armor Gear in Pakistan, so we can guide you very well on how to spot the real ones from the counterfeit covers.
Urban Armor Gear Cases
Urban Armor Gear manufactures some of the most rugged, lightweight, cases that are drop tested to US Military Specs. UAG covers are made for devices and smartphones like the iPhone, iPad, MacBook, Samsung, and Huawei smartphones and devices.
UAG cover is certified to a military standard known as MIL-STD-810G 516.6. In this military standard test, the device in UAG cover is dropped from a height of four feet. This is a typical fall height for a device dropped while it is being used. And this drop test is performed on the device a total of 26 times from different angles. The test cover falls into each corner, the face, and back. To pass, the device must remain fully functional afterward, with no damage to the screen.
The Urban  Armor cases are very popular especially with high-end devices. UAG for iPhone 11 & UAG for Samsung Galaxy S20 are in high demand as they offer premium protection and durability. So that your expensive smartphones won't be damaged even with rough use.
Their designs are more industrial-looking than most cover brands but offer a higher degree of protection in return. Urban Armor gear cases are engineered to protect your devices from the rigors of a mobile and active lifestyle and enhance your smartphone or device's utility.
How to Spot Fake VS Real Urban Armor Gear
Detecting originals from fake copies might seem a little difficult and daunting at first. But with our tips and guide, you will be able to identify a fake from an original in no time. Read on ahead to see what differentiates an original Urban Armor Gear product from a counterfeit one.
Detailing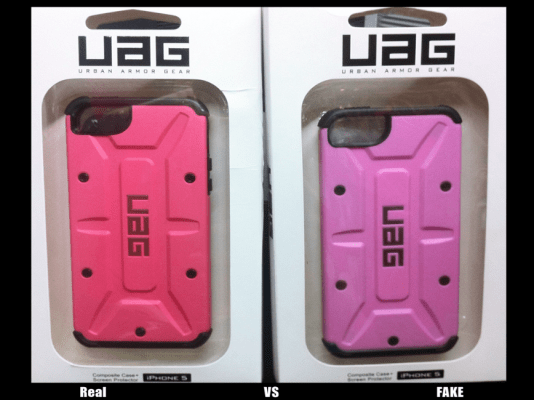 One of the main things to look for when trying to identify fake Urban Armor cases from real ones is the small details. Counterfeit covers and cases might be able to copy the overall look of the original, but they will always miss the minor details. Fake ones often miss the look and feel, they have rough edges, and bad texture. Here are some of the detailing faults found in fake cases VS original UAG ones. 
UAG Logo on Original cover and cases is of a brushed aluminum finish, often fake covers will have a shiny chrome reflective finish, this difference is often easily identifiable.

The screen protector of fake Urban Armor cases is often labeled with red and blue text. Original UAG covers use different colors than red and blue.

The price of the cover is also a huge red flag, if the Urban Armor cover you are buying is cheaper than its original price, then chances are that it is a cheap counterfeit.
Packaging
The next most distinctive difference between original and counterfeit UAG products is the packaging. The packaging is one of the most easily identifiable pieces and the first thing that you should be checking if you want to see whether or not your UAG product is original. Here are a few notable factors that one should keep in mind when checking the packaging of an Urban Armor product.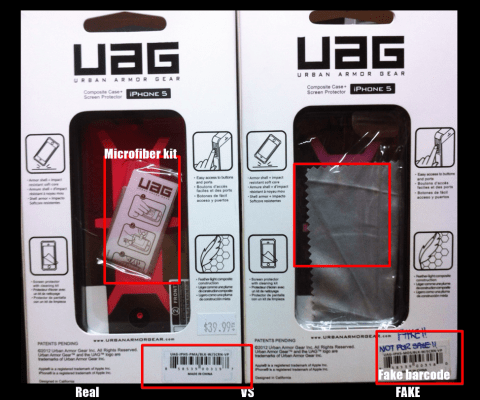 Often times fake UAG products will have a differently designed box, there can be color variations, size variations, different fonts, or more that can be easily compared with the original packaging.

When checking the package of UAG cover note the corners of the cutouts that display the cover. Original Urban Armor cases have rounded corners in the packaging, while the fake ones tend to have square corners.

One of the other notable difference will be the cleaning kit. Which will probably be displayed in the back of the box through the cutout. Original covers will have a properly packed kit as shown in the picture. While fake ones will not, or they will only have a microfiber cloth.
Pricing
One of the main redflags when purchasing UAG covers is the product's pricing. Counterfeit UAG covers will be cheaper and more affordable compared to the originals.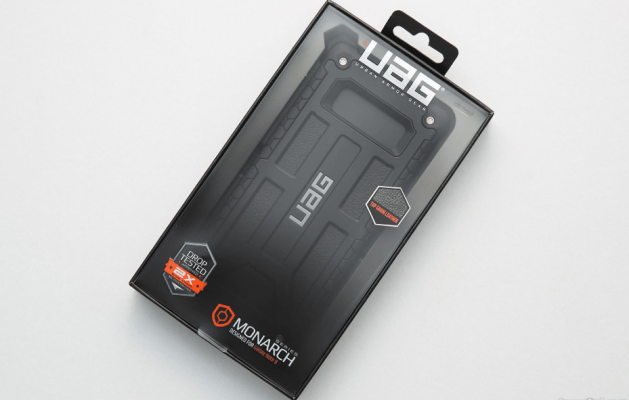 Then there is the barcode, this will be a little tricky to identify but you can also use barcode scanners in your mobile to do so, fake products will have fake barcodes on them instead of actual original ones that lead to correct products and pricing.

Check pricing of UAG covers online to verify if the vendor is selling the original Urban Armor Gear product or not.

Only buy from verified official sellers and avoid shady retailers. Never purchase covers off of eBay or Craigslist unless you are 100% sure that the product is authentic.
The Actual Case
Once you have gone through the minor details and packaging of the UAG covers, chances are you will have already detected whether or not your case is original or counterfeit. However, if you are still a little unsure then a thorough look at the actual case will help you determine this with ease.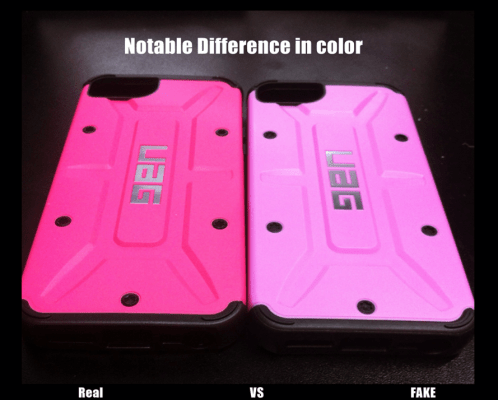 On the original UAG case, the screws will be original Torx screws. These will be properly fitted and will have small indentations on them while fake ones will not.

The cover will often slightly vary in shape, size, finish, and color, you can detect this by comparing it with an original cover.

One of the most notable differences will be the buttons of the case. I.e. the volume rocker and power button. A counterfeit case will often have buttons that are very hard and tough to operate. Original Urban Armor covers will have buttons that are easy to use. They will not be hard to operate, unlike the fake ones.

One other notable difference between counterfeit and original UAG are its shockers. For example, note the UAG for iPhone 11 Pro Max pictured below; the plasma case is an original and as you can see an original Urban Armor Gear will have larger shockers than a fake one.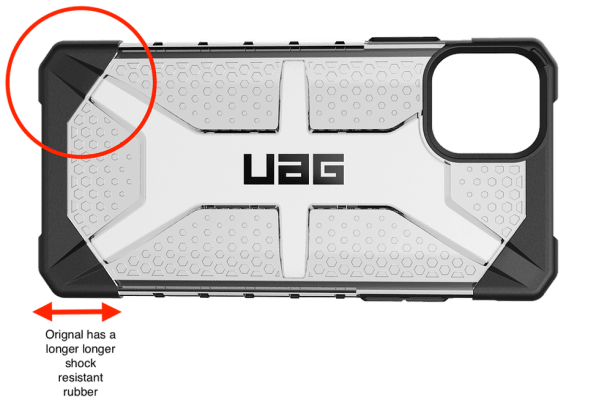 Why Choose Urban Armor Gear Cases
Urban Armor Gear cases aren't for everyone that's for sure. They are built for durability, endurance, protection, and rough use. They offer excellent military-grade protection for your devices so that you can use them freely without worry. But if you are looking for something handy or user-friendly, UAG is not the best option.
If style and look are one of your priorities, you should also avoid Urban Armor Gear Cases unless you like sporting a rugged military look on your smartphones. Original UAG covers are also quite expensive compared to other protective cases, but you are getting the bang for your buck in terms of protection and durability. The high price can this way be somewhat justified by the excellent protection that Urban Armor supplies. The amount of protection it offers without turning your device into brick is quite formidable. 
Urban Armor Gear protective covers are best if you are looking to keep your smartphone for a long time. They are the best option if you are an outdoor person, fitness freak, or work in extreme conditions. UAG covers will protect your devices from the worst of drops, smashes, and crashes.
One thing to keep in mind, however, is that the protection is more functional than cosmetics. Urban Armor cases are designed to protect your devices from breaking to the point of no return, but they don't guarantee cosmetic damages, scratches, or dents. However, it will protect your screen from cracking and your smartphone from being destroyed.
I hope this guide will help you find the right cover for your devices, and if you are looking to buy one, you can check out our website as we are the original suppliers of Urban Armor cases. If UAG isn't what you are going for, you can browse our site Dab Lew for an extensive collection of cases and covers for various devices. Dab Lew is the leading online store for smartphone accessories, covers, chargers, and more in Pakistan. So if you are looking for UAG cases in Pakistan contact us for the best  prices and the best service.
Scroll through the UAG cases collection at Dab Lew Tech. 
About Author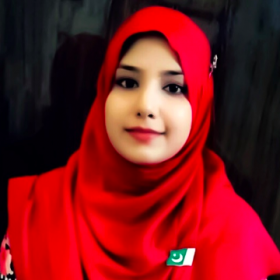 Rimsha Salam is a tech-enthusiast, writer, blogger, ex-quality assurance engineer, and freelancer. She writes on the latest tech trends, gadgets, Information technology, and more. Always eager to learn and ready for new experiences, she is a self-proclaimed tech geek, bookaholic, introvert, and gamer.
Dablew.pk is the upcoming branded tech store on the verge of conquering the e-commerce market. Here you will find products from many online stores from around the world. From amazon Hot sellers to AliExpress top sellers in Pakistan, you name it, we have it. Our goal is to be the best tech store in Pakistan, in order to give you best online shopping experience in Pakistan. Our products range is something we take pride on. We like to cater to all our loyal customers out there. We deal in cheap original tech products as well as premium high-end products. When you visit our website, you will see the hottest selling products in Pakistan, Products on sale, new arrivals as well is featured products. Dablew is your go to place to find the best technology related products on Pakistan. Coming on to the Brands we sell. We have official stores of multiple brands such as QCY official store, Tronsmart official store, MPOW official store, Apple official store, Minix official store, Xiaomi official store, Ravpower official store and Whitestone Domes. Quite a list, isn't?. Finally, we are known to provide customers with best TWS earphones, best earbuds and best headphones in Pakistan. This is because we realise how important Music is for our customers. And top it off, We provide FREE cash on delivery on all your purchases above Rs. 3000