Tronsmart has been the market leader in audio accessories, like earphones, headphones, and more for quite some time. There wireless series of earbuds are some of the best in the market.
In this article, our team at Dab Lew Tech will be talking about the  Tronsmart Onyx Free VS Tronsmart Onyx Ace. Both are great earphones, with amazing features, long battery life, good value for money, and all-round performance. Read ahead to find out which one is the best for your daily music needs! Once you decide which earphone to buy, we assure you, dablew.pk will offer you the product at the cheapest prices.
Tronsmart Onyx Free VS Tronsmart Onyx Ace
Here we will be comparing the Tronsmart Onyx Free and Onyx Ace headsets in terms of design, audio quality, battery life, controls, and features. Hopefully, this review will help you decide which one to buy.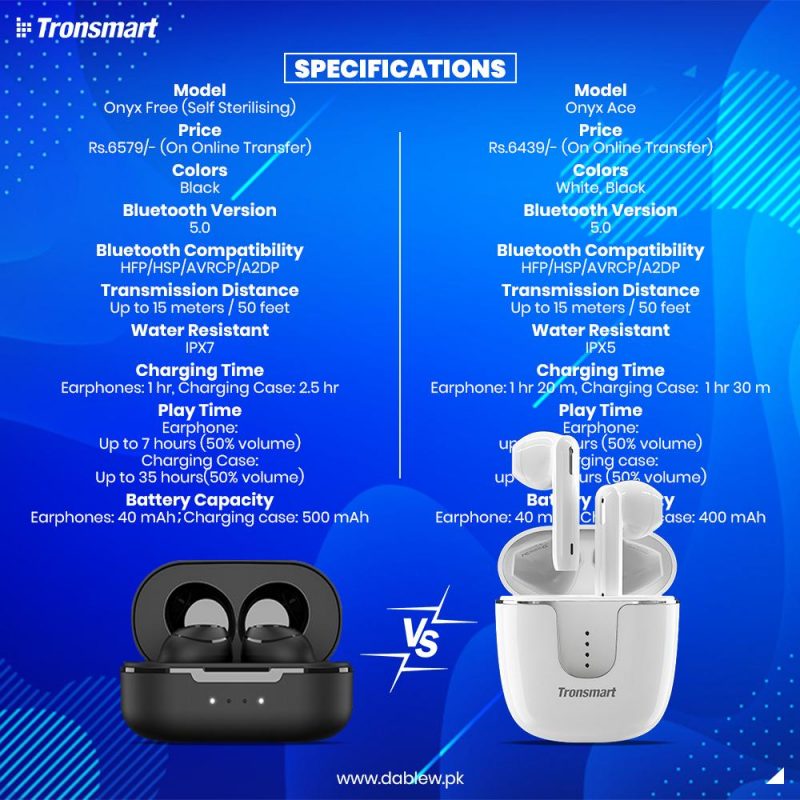 Audio Quality
The Tronsmart Onyx Free comes with spectacular sound quality. Both Tronsmart headphones use the same 6 mm dynamic drivers, which offer excellent performance, dynamic output, and loud volume. The earbuds have pleasant bass at low frequencies, accompanied by outstanding surround sound.
The audio quality of the Tronsmart Onyx Ace is very impressive. And compared to Onyx Free, there aren't that many differences. While the Tronsmart Onyx Ace is a little bass-heavy, the overall mix is decent. When the frequencies are set correctly, the Lows, mids, and highs come in for an excellent listening experience, and no audio noise or annoying sounds are heard.
This is to be expected with the powerful Qualcomm aptX chipset onboard. Overall, both the headphones are right for their money. However, the Tronsmart Onyx Free could have a better microphone, and the Onyx Ace cannot replace your proper audio headphones. However, for casual and daily use, both of these don't disappoint.
Design Comparison
When it comes to design, the Tronsmart Onyx Free has a much more stylish, sleek, and attractive look. The earbuds are designed to give you the best audio connection capabilities, thanks to Bluetooth v5.0, which the latest standard of one of the most powerful technologies you will find. The earbuds are designed for long-distance use and offer you the best sound at a staggering distance of up to 15 meters. It is a straightforward model to connect. And thanks to this, this model has other enhancements, such as being able to connect your phone instantly and automatically stop the music when you take off the earbuds without any difficulty.
The Tronsmart Onyx Ace the other hand is one of the best earphones in the market. There's a lot to love in design, especially if you are a fan of Apple's AirPods. The Onyx Ace earbuds have touch control over them and the ability to use each bud separately. Additionally, you can also use the Google Assistant and Alexa with these earbuds using voice control.
The Onyx Ace design makes it comfortable to wear, and it sits nicely in the ear. Both earbuds come with a water-resistant rating, making them the best audio earphones for outdoor and active use. The Onyx Ace has an IPX5 rating, while the Onyx free has a rating of IPX7 water-resistance. In terms of design, choosing between the Onyx ace & Onyx Free is not that hard. If you like the look of the AirPods and its notoriety as the elite's earphones, the Tronsmart Onyx Ace is the one for you. Or if you are like me and prefer something sleeker and more unique, the Tronsmart Onyx Free is the best choice.
Long Battery Life
Tronsmart earphones offer overall high specifications and performance, and both of the earbuds don't fall short when it comes to battery life. The Onyx Free has a slightly better battery and gives a total of 7.5-hours of audio playtime on each charge. While the Onyx Ace gives a slightly lesser 5-hour playtime per charge.
Features & Interactive Controls
When it comes to features, Tronsmart went all-in with both of the earphones. The Tronsmart Onyx Free & Onyx Ace earbuds come with CVC noise cancellation designed to eliminate all background noise when communicating on call through the earbuds' built-in microphones.
Both earbuds have built-in, highly responsive buttons for media control. While the Onyx Free comes with a set of physical buttons, the Onyx Ace sports a set of touch controls. Touch controls are highly preferable as you don't need to exert force on your ear to use them. But the Onyx Free's buttons are highly responsive and don't require a lot of pressure. The controls on both headphones can be used for media control, answering calls, or even activating and using a voice assistant like Alexa through voice control.
One unique feature of the Tronsmart Onyx Free, which seems more of a gimmick than anything else, is the ultraviolet disinfection lamp. This lamp is a built-in UV sterilization that cleans your earbuds by using UV rays, seems like a good option now that we are facing this COVID-19 pandemic. Unfortunately, the Tronsmart Onyx Ace doesn't have this feature onboard.
The Verdict
These budget, stylish earphones from Tronsmart offer a lot for the money. They feel well designed, provide a good playing time, have long battery life, as well as long-range. The Tronsmart Onyx Free has a better water-resistance rating as well as a unique and functional design. These earbuds also offer the possibility of charging via USB-C, a cherry on top of the sundae.
 While the famous and highly successful AirPods inspire the Tronsmart Onyx Ace, the four powerful microphones and Qualcomm's cVc microphone technology means the Tronsmart Onyx Ace earbuds are great at reducing background noise when making a call.
Ultimately, the verdict is that both earphones offer great playtime, a long-lasting battery life, excellent budget pricing, good audio quality, and great audio features with responsive touch controls. So apart from the minor differences listed above, there isn't much difference between the two. Both are a great choice if you are looking for reliable, good quality, excellent audio performance earphones that you can use every day or on the go.
Now it is time to simply make your purchase. Just click on the product below to get it now;
Dablew.pk is the upcoming branded tech store on the verge of conquering the e-commerce market. Here you will find products from many online stores from around the world. From amazon Hot sellers to AliExpress top sellers in Pakistan, you name it, we have it. Our goal is to be the best tech store in Pakistan, in order to give you best online shopping experience in Pakistan. Our products range is something we take pride on. We like to cater to all our loyal customers out there. We deal in cheap original tech products as well as premium high-end products. When you visit our website, you will see the hottest selling products in Pakistan, Products on sale, new arrivals as well is featured products. Dablew is your go to place to find the best technology related products on Pakistan. Coming on to the Brands we sell. We have official stores of multiple brands such as QCY official store, Tronsmart official store, MPOW official store, Apple official store, Minix official store, Xiaomi official store, Ravpower official store and Whitestone Domes. Quite a list, isn't?. Finally, we are known to provide customers with best TWS earphones, best earbuds and best headphones in Pakistan. This is because we realise how important Music is for our customers. And top it off, We provide FREE cash on delivery on all your purchases above Rs. 3000