Bringing Technology to Your Doorstep

Dablew, bringing you the latest technology right at your doorstep. We provide you with the latest tech accessories, smartphone accessories, gadgets, and more at the best possible rates. Here to fulfil all your gadget at gifting need Dablew is a one-stop gadget shop.
At Dablew we aspire to be the leading online shopping website for tech gadgets, devices, bluetooth speakers, earphones, true wireless earbuds, power banks, charging cubes, charging cables and gifts. We hope to achieve this by providing quality customer service, 100% customer satisfaction, the latest and greatest innovative gadgets, and more.
Latest & Greatest Gadgets
Dablew holds a large collection of tech devices, accessories, gadgets, gizmos, and other cutting-edge consumer electronics. Our goal is to provide first-class customer service, with a full-proof warranty, catering to all of your technology needs. We aim to satisfy even the most demanding customer because our goal is to create life long customers.
Our inventory is constantly updated to keep up with the latest innovations and gadgets arriving in the market. We are continuously expanding our online catalogue to equip our site with the very latest and coolest gadget available. Products are added every day to ensure that you get your latest tech fix available in the market.
Our Online Catalog includes a wide array of gadgets, devices, and gizmos that range from mobile accessories, speakers, covers, power banks, cables, chargers, headphones, mounts, hubs, transmitters, receivers, TV & Video devices, PC & MAC accessories, to smartwatches & bands.
Best Customer Service Guaranteed
We serve a market of passionate individuals and tech enthusiasts looking for the next latest gadget and the best tech products in Pakistan. Our success is driven from our passion for technology and innovative devices and we aim to provide our customers with the latest gadget in the market.
Through affordable rates, quick service, and quality tech products our goal is to improve your tech shopping experience and keep you coming back for more. We ensure that all our customers have a friendly and satisfying online shopping experience by ensuring an easy orde process, timely delivery, cost-effective rates, and more.
Our market-competitive rates are surely going to attract you to us and our top quality latest tech products. We are official distributors of Tronsmart, Ravpower, Mpow, QCY, and Blitzwolf in Pakistan.
We provide nationwide shipping at affordable rates as well as timely delivery of our products with increase safety and security so that our products are delivered safe and sound and in pristine condition. With 100% Original products, hassle-free online shopping experience, and a one-year full proof warranty we hope to cater to all of your technology needs.
Official Retailer of International Technology
We are the official retailers of several international tech products and gadgets. We rank among the top seller for Amazon products in Pakistan, as well as the top sellers for Ali Express prodcuts in Pakistan. Dablew is Blitzwolf official store in Pakistan, our site also boosts being the Ravpower official store In Pakistan, Tronsmart, QCY, Mpow, Haylou, and Anker official store In Pakistan.

We provide premium brands in Pakistan to fulfil all of your tech needs. At Dablew we import USA tech products in Pakistan of the best quality. Our inventory includes the best accessories, power banks, charging cables, and the best tech products in Pakistan.
Leading Tech Supplier in Pakistan
Our passion for quality service, technological innovations, gadgets, and gizmos is what drives us to be the best tech supplier in Pakistan. The uniqueness, outstanding quality, and impact of our tech products are what makes our customers come back for more. 
With over 10,000 verified reviews from amazon and 3000 verified reviews from our customers, up to one-year official warranty and numerous sales, offers, and more we are striving to become the leading tech gadget and supplies website in the nation.
100% Client Satisfaction & Five Star Feedback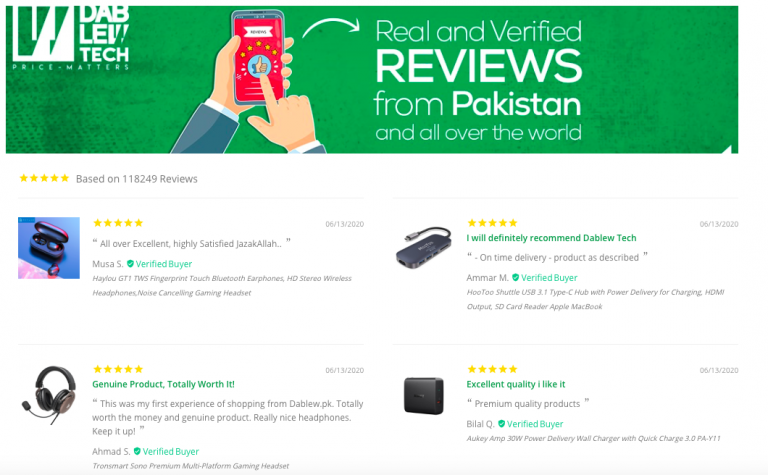 We aim for no less than 100% client satisfaction and receive five-star feedback from our clients. Our products are all of outstanding imported quality with official warranty of up to one year. We received raving reviews of all of our products, accessories, and gadgets. With Dablew claiming warranty of your imported tech products is easier than ever before. Due to us being official resellers and distributors we can help you easily claim warranty and provide top-notch after-sales services and support.
We at Dablew pride ourselves on being the leading suppliers of tech gadgets and accessories in Pakistan, as well as being one of the fastest-growing e-commerce platforms for high-quality tech products and official retailers of several international brands.
About Author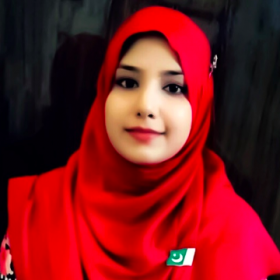 Rimsha Salam is a tech-enthusiast, writer, blogger, ex-quality assurance engineer, and freelancer. She writes on the latest tech trends, gadgets, Information technology, and more. Always eager to learn and ready for new experiences, she is a self-proclaimed tech geek, bookaholic, introvert, and gamer.
Dablew.pk is the upcoming branded tech store on the verge of conquering the e-commerce market. Here you will find products from many online stores from around the world. From amazon Hot sellers to AliExpress top sellers in Pakistan, you name it, we have it. Our goal is to be the best tech store in Pakistan, in order to give you best online shopping experience in Pakistan. Our products range is something we take pride on. We like to cater to all our loyal customers out there. We deal in cheap original tech products as well as premium high-end products. When you visit our website, you will see the hottest selling products in Pakistan, Products on sale, new arrivals as well is featured products. Dablew is your go to place to find the best technology related products on Pakistan. Coming on to the Brands we sell. We have official stores of multiple brands such as QCY official store, Tronsmart official store, MPOW official store, Apple official store, Minix official store, Xiaomi official store, Ravpower official store and Whitestone Domes. Quite a list, isn't?. Finally, we are known to provide customers with best TWS earphones, best earbuds and best headphones in Pakistan. This is because we realise how important Music is for our customers. And top it off, We provide FREE cash on delivery on all your purchases above Rs. 3000