Tronsmart, globally, is starting to become a household name like Bose or JBL. The company continues to provide consumers with quality audio devices. Tronsmart, who has several different designs in the portable audio market, has delivered again with the Tronsmart Onyx Neo True Wireless Bluetooth Earbuds. Like always, our team at Dab Lew Tech tested the product before offering it to our customers so that we are sure to offer the best quality products to our valued customers. We have kept the review short and concise for your convenience.
DESIGN
The industrial design of the earbuds is what we would like to call the "pill" design. These fit your ear more like traditional wired options that call to mind the original iPod. They slide almost entirely into the ear and don't have the new stemmed craze you see in many truly wireless offerings in recent memory.
As far as comfort, this will always be subjective. However, we would like to elaborate on the fact that you can go to the gym, run and walk around without having to fear they would fall out. The first takeaway we had taking them out of the charging case was how incredibly light the Onyx Neo is. Which brings us to the charging case….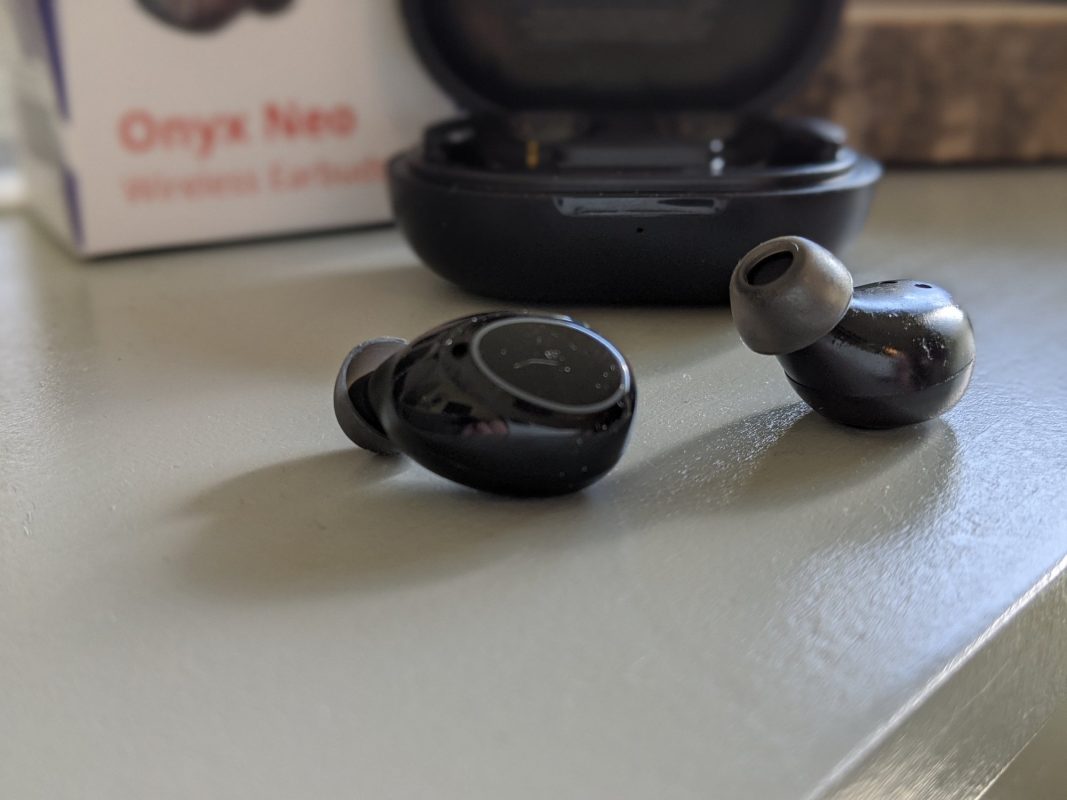 CHARGING AND CASE
Speaking of the included charging case. It's also quite small and light. As with most truly wireless earbuds, it also doubles as a power bank and the charging mechanism for the Onyx Neo. The 350mAh case allows recharging the earbuds to full power around three times.
This gives you freedom from a power outlet for up to 21 full hours. Playtime for the Neo earbuds is rated for seven hours per charge and we found this to be fairly accurate during our tests. Basically, you can use them all day during an 8-hour workday and still have battery left. When you do need to top off charges, the case can be plugged in via USB-C.
AUDIO AND CONTROLS
The audio is unsurprisingly good from the Tronsmart Onyx Neo buds. The 8mm drivers have a nice balance of highs, mids, and bass. With passive noise cancellation and Qualcomm's aptX codec support the Onyx Neo may impress you.
There are also plentiful controls to be used with the earbuds via touch input. A single tap on either earbud will play/pause audio playback or take/end a phone call. Double tap the left Neo and you'll lower the volume. Reversely the same dual tapping will raise the volume on the right earbud. You also have track control via a triple tap of each earbud on the Onyx Neo. The left earbud will take you back a track while the right will jump forward a track. Holding either Neo bud will activate your preferred voice assistant to scream commands at your phone.


What's in the box
Simplifications begins with packaging. When it comes to design, the boxes of all Tronsmart products are almost identical. But inside, Tronsmart Onyx Neo set is housed in a simple holder made of thin stamped plastic. The contents of the box include: a case, 2 earphones, a charging cable, 2 additional ear pads of different sizes, and some pieces of paper.
FINAL THOUGHTS
We can't stress how impressed we were by the Tronsmart Onyx Neo wireless earbuds. The buds are super lightweight, have great battery life, and offer fairly decent audio quality. The new Tronsmart Onyx Neo supports Qualcomm DSP and CVC 8.0 noise reduction technologies for comfortable listening to music and calls, as well as aptX for stable audio transmission without loss of quality. Hence, we would strongly recommend that you click on the product link below to purchase Tronsmart Onyx.
Dablew.pk is the upcoming branded tech store on the verge of conquering the e-commerce market. Here you will find products from many online stores from around the world. From amazon Hot sellers to AliExpress top sellers in Pakistan, you name it, we have it. Our goal is to be the best tech store in Pakistan, in order to give you best online shopping experience in Pakistan. Our products range is something we take pride on. We like to cater to all our loyal customers out there. We deal in cheap original tech products as well as premium high-end products. When you visit our website, you will see the hottest selling products in Pakistan, Products on sale, new arrivals as well is featured products. Dablew is your go to place to find the best technology related products on Pakistan. Coming on to the Brands we sell. We have official stores of multiple brands such as QCY official store, Tronsmart official store, MPOW official store, Apple official store, Minix official store, Xiaomi official store, Ravpower official store and Whitestone Domes. Quite a list, isn't?. Finally, we are known to provide customers with best TWS earphones, best earbuds and best headphones in Pakistan. This is because we realise how important Music is for our customers. And top it off, We provide FREE cash on delivery on all your purchases above Rs. 3000