The QCY T3 is the first QCY headphones with an elongated design, inspired by Apple AirPods. On the positive side, they have a long 6-hour battery life and a good quality hands-free microphone. Dablew.pk is proud to be the official seller of QCY in Pakistan.
Specs of the QCY T3/ Xiaomi T3:
Bluetooth 5.0 with AAC codec
IPX5 waterproof (sweat and rain resistant)
+-5 hours listening on a full charge
Charging case can charge earpieces fully 4 times
Comes with 1 size ear tips and a micro-USB cable
The best is saved for last: once again, QCY knocks off your socks when it comes to sound quality. The QCY T3 offers a balanced sound with boosted bass, great clarity and a sweet deal of detail.
The bass of the QCY T3 sounds darker, fuller and punches a fair deal harder than on previous models of the brand. The sub bass has a noticeable rumble, managing to shake in your ears, and the mid bass delivers a hefty slam
Vocals, mid tones such as guitars and higher tones (such as cymbals) are once again pushed forward and are presented with great clarity and detail. The QCY T3 has excellent dynamic range, extending the highs, lower mids and upper mids without overpowering them – and the left-right stereo imaging is spot on. There's a great sense of stage, and instruments can often be placed exactly within the space that surrounds you.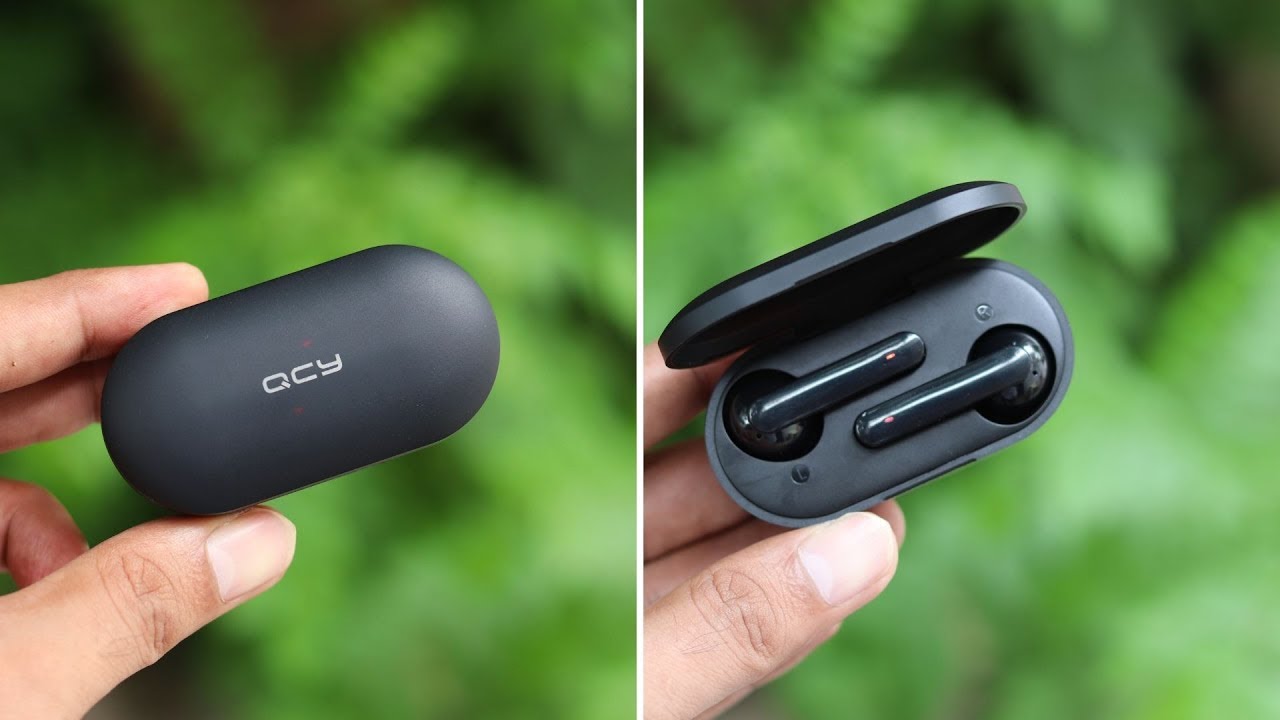 Design:
QCY T3 TWS Earphones adopts half-in-ear earphones, which is totally different from QCY T1 adopting in-ear and round design. The design of QCY T3 is similar to Apple AirPods except the half-in-ear part. The QCY T3 is in high gloss black, which looks beautiful and elegant. It is light and ergonomic, which would fit ears perfectly, and your ears will not feel pressure when you wear them. The earphones will not fall off when you use in daily life. Also, experts at dablew.pk wore them to do sports like running and cycling, they never fall off from their ears. You can have a look at what our customers have to say about QCY T3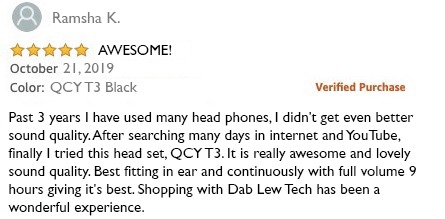 Dablew.pk is the upcoming branded tech store on the verge of conquering the e-commerce market. Here you will find products from many online stores from around the world. From amazon Hotsellers to AliExpress top sellers in Pakistan, you name it, we have it. Our goal is to be the best tech store in Pakistan, in order to give you best online shopping experience in Pakistan.Our products range is something we take pride on. We like to cater to all our loyal customers out there. We deal in cheap original tech products as well as premium high-end products. When you visit our website, you will see the hottest selling products in Pakistan, Products on sale, new arrivals as well is featured products. Dablew is your go to place to find the best technology related products on Pakistan. Coming on to the Brands we sell. We have official stores of multiple brands such as QCY official store, Tronsmart official store, MPOW official store, Apple official store, Minix official store, Xiaomi official store, Ravpower official store and Whitestone Domes. Quite a list, isn't?. Finally, we are known to provide customers with best TWS earphones, best earbuds and best headphones in Pakistan. This is because we realise how important Music is for our customers. And top it off, We provide FREE cash on delivery on all your purchases above Rs. 3000