When looking for a new pair of Bluetooth earphones, we're often faced with a few choices. Do we want to spend more money for better audio quality? How much do we care about looks?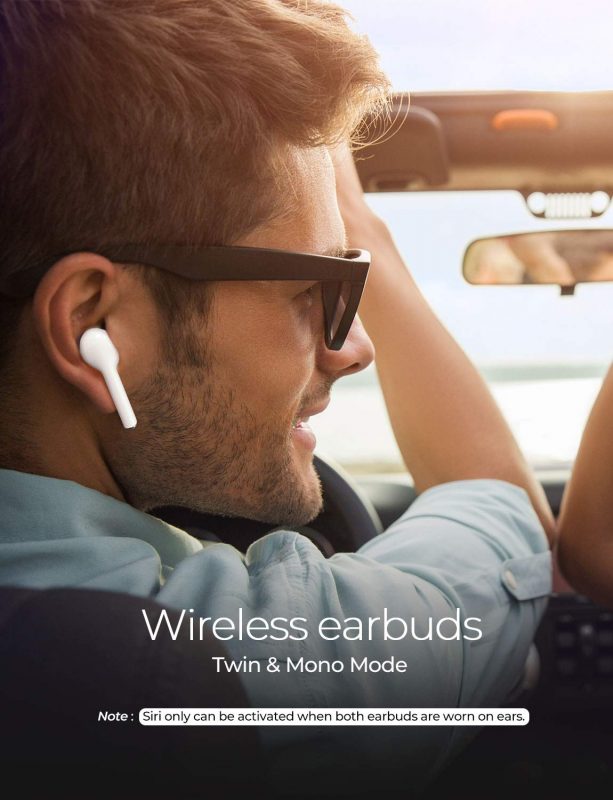 While some companies are trying to compete on price alone and some are trying to compete on features alone, MPOW is trying to straddle the line of both of those segments to provide a pair of Bluetooth earphones that look great, sound great, and don't cost an arm and a leg. Recently, we Dablew.pk, tested the earphones and we found to be the best in Pakistan so far. Right now, the M10's are listed as the hosteller on Amazon for Bluetooth Earphones.
The M10 has a hard plastic shell on the outside of a very soft plastic inside. Everything that touches your ears, or skin is a soft material, while the exterior of the earphones consists of hard plastics that will stand up to bumps, bruises, and being thrown into gym bags. The second component of headphone quality is audio quality. You definitely get a LOT of bass in these things. We at Dab Lew Tech would say they're quite Beats-level bassy.
Let's look at what our customer said regarding Mpow M10: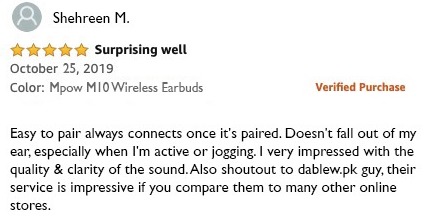 To shop now, Please click on the button below;
Dablew.pk is the upcoming branded tech store on the verge of conquering the e-commerce market. Here you will find products from many online stores from around the world. From amazon Hotsellers to AliExpress top sellers in Pakistan, you name it, we have it. Our goal is to be the best tech store in Pakistan, in order to give you best online shopping experience in Pakistan.Our products range is something we take pride on. We like to cater to all our loyal customers out there. We deal in cheap original tech products as well as premium high-end products. When you visit our website, you will see the hottest selling products in Pakistan, Products on sale, new arrivals as well is featured products. Dablew is your go to place to find the best technology related products on Pakistan. Coming on to the Brands we sell. We have official stores of multiple brands such as QCY official store, Tronsmart official store, MPOW official store, Apple official store, Minix official store, Xiaomi official store, Ravpower official store and Whitestone Domes. Quite a list, isn't?. Finally, we are known to provide customers with best TWS earphones, best earbuds and best headphones in Pakistan. This is because we realise how important Music is for our customers. And top it off, We provide FREE cash on delivery on all your purchases above Rs. 3000