At Dablew.pk, we work hard on providing you with the latest and best smartphone accessories and covers. We carry notable phone cover brands like Urban Armor Gear, Spigen, and Apple. And now we have some good news for you. We are officially welcoming Rhinoshield to Pakistan. At Dablew, you can easily purchase SolidSuit products from the Rhinoshield Exclusive Store in Pakistan.
Now that we have shared the excellent news with you, let's look at Rhinoshield's flagship cover the SolidSuit. If you have ever been in the market for protective cases, you know that there are a million cases to choose from. And selecting the right one can be a little overwhelming. You need to make sure that your cover offers a balance of protection, durability, longevity, style and is handy. Initially, Dablew.pk is bringing Rhinoshield Solidsuits for mobile phones and Rhinoshield Crashguard NX for apple watch
However, don't fret, as we are here to make things easier for you. When selecting a premium protective case, the RhinoShield SolidSuit Case is one reliable option. Let's discuss how SolidSuit should be the goto case for your smartphone protection.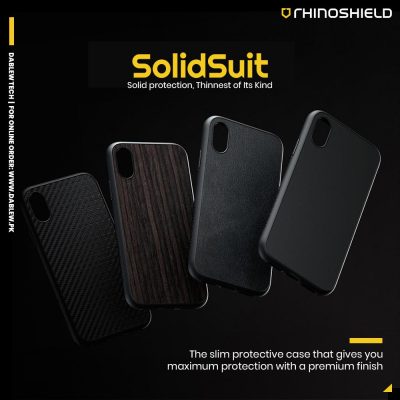 Rhinoshield SolidSuit Premium Protection Smartphone Covers
Let's have a look at the Rhinoshield SolidSuit protective case for smartphones. Here we will discuss the features, specs, build quality, and more to see if these protective covers are the right fit.
Build Quality & Installation
All Rhinoshield cases are created from a material called ShockSpread, which isn't your typical run of the mill TPU. According to Evolutive Labs, their stuff is slim and sturdy. This means that their cases will be smaller and lighter than other similar cases that offer premium protection.
The covers are a bit stiff, but that is understandable as they offer rigid protection. Installation is as simple as inserting the phone from the left side of the case, making sure to add both remaining corners. Then just pop in the top-right corner, followed by the bottom-right corner. The Rhinoshield SolidSuit is exceptionally slim and incredibly easy to handle compared to other advanced protection covers.
The SolidSuit is more affordable, and it's better looking, feels better in hand, and adds hardly any bulk to your smartphone. The best part of the SolidSuit is also safe for humans as it does not contain harmful chemicals such as BPA, BPS, or BPF. It even meets US FDA food-grade standards, what more could you ask for!
Design & Aesthetics
When it comes to smartphone covers, style is unquestionably essential. While the original black SolidSuit case we've been testing isn't anything exceptionally stylish, it's polished and straightforward enough that most people will find it appealing. The minimalist and sharp vibe of the mobile covers is also a great style feature.
Highly protective smartphone cases are usually bulky, heavy, and unwieldy, but the RhinoShield SolidSuit is sleek and handy. At under 2mm thickness, the cover will fit in your pocket without adding any visible bulk. It also weighs less than 30g, so it won't put a dent in your pocket and won't ruin the crisp ironing. The cases feature RhinoShield's patented EggDrop tech, which protects your phone and keeps it safe from drops of up to 11 feet.
Features & Use
One of the best features of SolidSuit Covers is the raised lip cover folding over the phone screen, by adding an extra layer of protection, the Rhinoshield covers keep your phone almost suspended in the air. One of the common ways a smartphone screen can crack is when it drops on the glass's edge. The lip on the SolidSuit case prevents this from happening.
However, if you drop your phone screen-down and directly hit a sharp edge, you're probably going to have problems. The interior of the cover has a honeycomb pattern designed for better shock absorbency. The case itself has a snug fit and holds the smartphone tightly. However, it's somewhat tricky to put on and take off.
Colors & Finishes
The SolidSuit covers come in two finishes – leather or carbon fiber. There's no benefit of one over the other. It all just depends on your preference. You get a choice of colors as well: black or dark blue, for both finishes. However, the leather isn't genuine. Synthesized leather is used to give the covers a finish that looks and feels just like the real thing. The company's thinking behind this was so that no animals were harmed in its making.
The SolidSuit covers are available in eight different materials for the backing: carbon fiber, leather, classic, oak, walnut, microfiber, and brushed steel. The remainder of the SolidSuit case is made from RhinoShield's "specially-formulated custom polymer." This polymer is BPA/BPS-free, and in the case of the "classic" case that we've been testing, it's all made from this material.
How to Buy Rhinoshield SolidSuit in Pakistan
If you are looking for the latest Rhinoshield SolidSuit in Pakistan, the best place to shop at is Dablew.pk. The website is the exclusive retailer of Rhinoshield products in Pakistan, so you are guaranteed quality and genuine products. Dablew.pk also offers a warranty so that if you get a defective product, you can easily have it exchanged by the store. Click here to purchase your very own Rhinoshield SolidSuit Cover now form the exclusive store.
Overall, we're delighted to say the RhinoShield SolidSuit is excellent at its job. It's not the most enduring case on the market, but in this budget and with the rest of the RhinoShield ecosystem, it's a great option to take on the road. Combine those qualities with a slim and sleek profile, and the ability to customize the button colors; you have one of the best premium protective covers for your expensive smartphone.
About Author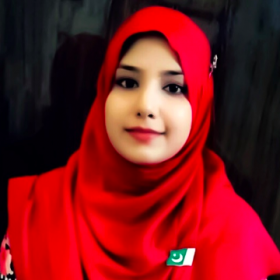 Rimsha Salam is a tech-enthusiast, writer, blogger, ex-quality assurance engineer, and freelancer. She writes on the latest tech trends, gadgets, Information technology, and more. Always eager to learn and ready for new experiences, she is a self-proclaimed tech geek, bookaholic, introvert, and gamer.
Dablew.pk is the upcoming branded tech store on the verge of conquering the e-commerce market. Here you will find products from many online stores from around the world. From amazon Hot sellers to AliExpress top sellers in Pakistan, you name it, we have it. Our goal is to be the best tech store in Pakistan, in order to give you best online shopping experience in Pakistan. Our products range is something we take pride on. We like to cater to all our loyal customers out there. We deal in cheap original tech products as well as premium high-end products. When you visit our website, you will see the hottest selling products in Pakistan, Products on sale, new arrivals as well is featured products. Dablew is your go to place to find the best technology related products on Pakistan. Coming on to the Brands we sell. We have official stores of multiple brands such as QCY official store, Tronsmart official store, MPOW official store, Apple official store, Minix official store, Xiaomi official store and xiaomi original products, Ravpower official store, Anker original products, anker official store and Whitestone Domes. Quite a list, isn't?. Finally, we are known to provide customers with best TWS earphones, best earbuds and best headphones in Pakistan. Our newly introduced brand in Urban armour Gear (UAG), JBL original products and JBL official store, Soundpeats original products and soundpeats official store, Spigen phone cover, spigen phone protectors, spigen official store and 1more official store. This is because we realise how important Music is for our customers. And top it off, We provide FREE cash on delivery on all your purchases above Rs. 3000