Our experts at Dab Lew Tech have been trying to find the best products for our customers. Specifically looking into the earbuds segment, we tried many different earbuds before we encountered BW-FYE1. The BlitzWolf BW-FYE1 is definitely an interesting contender in the true wireless earbuds sector. Compared to more expensive options on the market, The FYE1 definitely holds up strong. Today, we will take an in-depth look at these earbuds to see if they are worth it.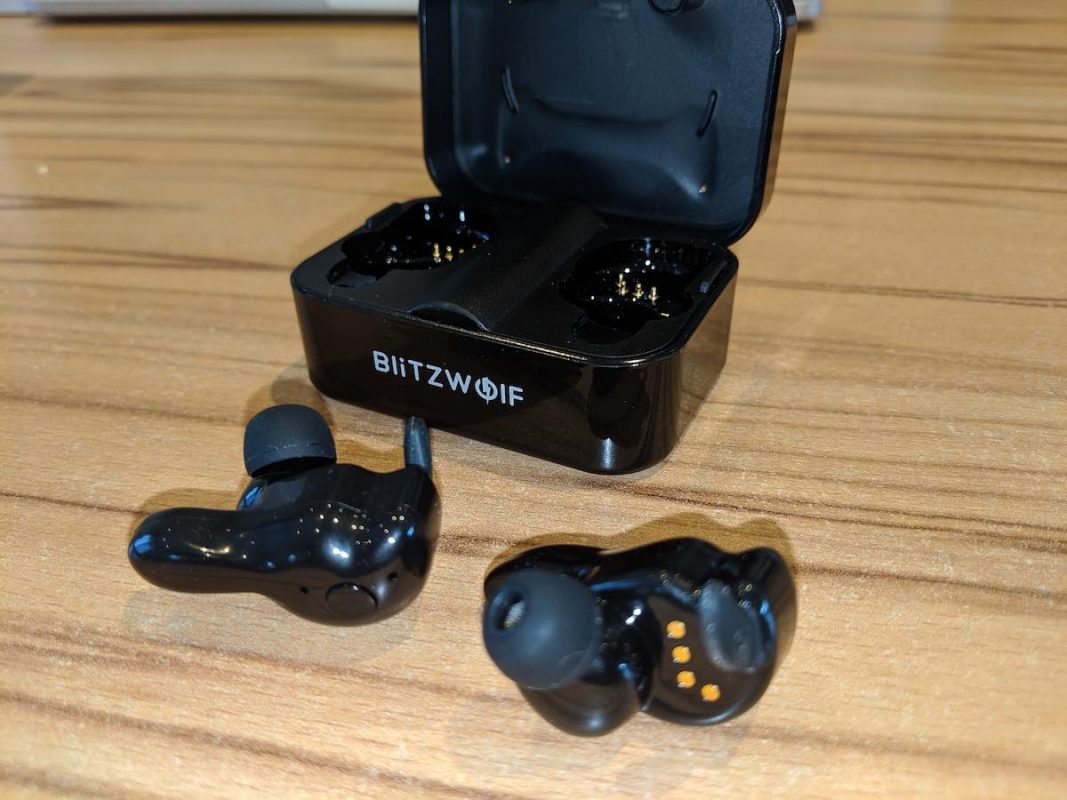 Unboxing
The BlitzWolf BW-FYE1 comes in a package which we know all too well from other BlitzWolf products. The package is mostly white with some nice green touches to it, just like Dab Lew Tech's signature colour.
Inside we find the casing, which looks good and solid and another smaller package. In that smaller package, we find a small micro-USB cable and two extra sets of ear tips to make it fit for every ear size. At the bottom of the box, we find some guides and warranty information.
The earflap is well placed and it keeps the earbud in place really well. With the multi-function button on the side, you can easily control what you are doing with the BlitzWolf BW-FYE1. This is also well placed and it does not put extra pressure on your ear canal when pressing the button.

Functions
The BlitzWolf BW-FYE1 can almost do it all and it has a surprising feature which we just love. All controls are handled by a single button which makes using them a whole lot easier, let's jump into the multifunctional button.
If you receive a phone call, you can answer it by pressing the button once. This same action, pressing once, is required to hang up a current phone call. To reject a call, press the button twice when you receive a phone call.
Pausing a song is done by pressing the button once. If you like to play it again, you have to press the button again once. Don't like the current song and would you like to skip to the next song? You have to press the right button for 2 seconds. If you would like to go to the previous song, you have to press the left button for 2 seconds. Cool features, aren't they?
This is done all automatically! That is just amazing. When you take out the earbuds from the charging case, they are automatically turned on and when you place them back in there, they are turned off and will charge completely. Kuddos, BlitzWolf!
The earbuds and the charging case of the BlitzWolf BW-FYE1 has a great rating of IPX4. This means that the earbuds and the case are water and sweatproof. Don't worry if you want to turn when it is raining or super hot outside. It can handle some rain and sweat.
When you press the button twice, you will wake up your voice assistant. This is just great! With the cold days coming, you don't have to take out your smartphone to play your favourite song or call somebody. Just press the button twice and tell your assistant (Google Assistant or Siri). For this price, it is a really nice feature which works really well.
Sound Quality
A pair of earbuds must have outstanding sound quality. Can the BlitzWolf BW-FYE1 amaze us with the sound quality? Fortunately, yes. We listen to several songs that we enjoy. The lows, mids, and highs are well balanced and at the maximum volume on the phone we were using phone, there is no bothersome level of distortion.
The noise cancellation is also top notch on the BlitzWolf BW-FYE1. Through our testing, we used these earbuds on the roadside. We find that they do a decent job in muffling the road noise without having to turn volume above 80%. Overall, we do think BlitzWolf does a pretty decent job with the noise cancellation.
Call Quality
One feature stood out to us when using it for calling. Both earbuds are working while having a conversation! This is something you rarely see with wireless earbuds. Most of the time only one is working. BlitzWolf managed to solve this issue a lot of people had. Great job!
Battery Life
Charging cases are a must if you ask us for wireless earbuds. With the charging case, you only need to charge the BlitzWolf BW-FYE1 once every week. Our experts used them from and to work and it is just great. The earbuds have a battery life of around 2 to 3 hours for each session. The battery case itself can completely charge the earbuds around 4 times, which is great. Charging the earbuds goes very quickly. In just 1 to 1.5 hours they are good to go! This is the same for the charging case. If that is empty, just charge it for 1.5 hours and you can charge the earbuds 4 times again.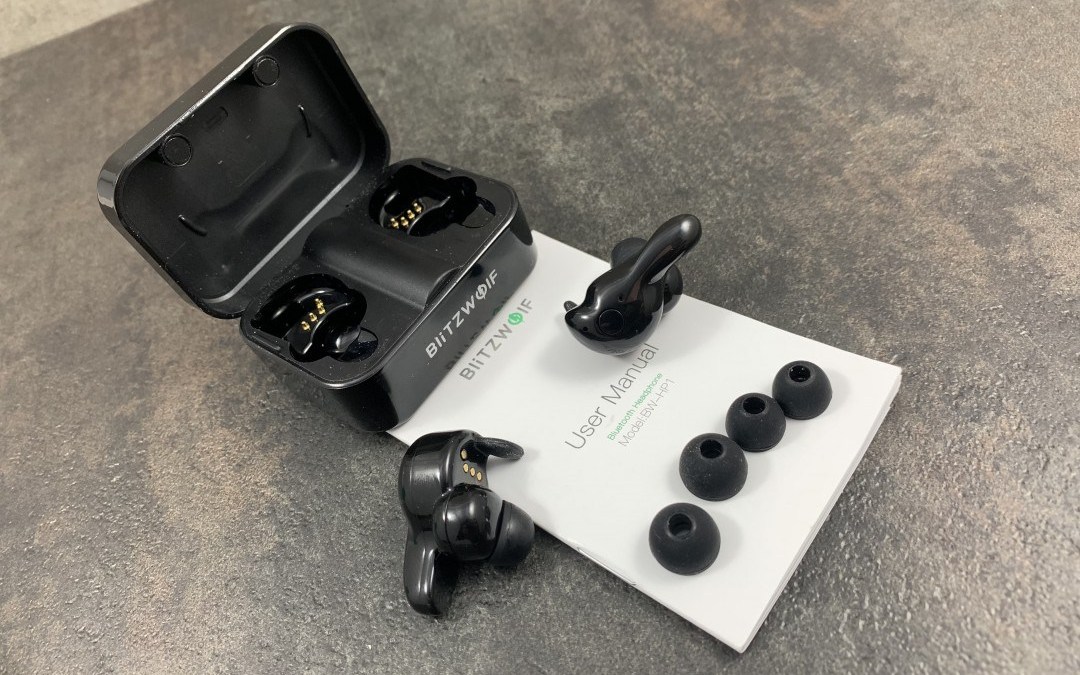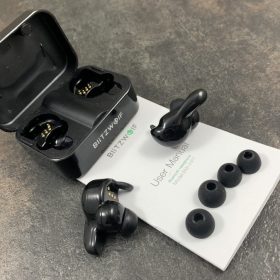 Conclusion
There are some great features on the BlitzWolf BW-FYE1 like the Google Assistant/Siri function. This makes it so much easier and you don't have to take out your smartphone every time you want to change something. The battery life is great with around 2 to 3 hours of play time. Charging goes quickly, the earbuds, as well as the charging box, is completely charged in 1.5 hours.
Thinking about buying them aren't you? Just click on the product below to make your purchase.
Dablew.pk is the upcoming branded tech store on the verge of conquering the e-commerce market. Here you will find products from many online stores from around the world. From amazon Hot sellers to AliExpress top sellers in Pakistan, you name it, we have it. Our goal is to be the best tech store in Pakistan, in order to give you best online shopping experience in Pakistan. Our products range is something we take pride on. We like to cater to all our loyal customers out there. We deal in cheap original tech products as well as premium high-end products. When you visit our website, you will see the hottest selling products in Pakistan, Products on sale, new arrivals as well is featured products. Dablew is your go to place to find the best technology related products on Pakistan. Coming on to the Brands we sell. We have official stores of multiple brands such as QCY official store, Tronsmart official store, MPOW official store, Apple official store, Minix official store, Xiaomi official store, Ravpower official store and Whitestone Domes. Quite a list, isn't?. Finally, we are known to provide customers with best TWS earphones, best earbuds and best headphones in Pakistan. This is because we realise how important Music is for our customers. And top it off, We provide FREE cash on delivery on all your purchases above Rs. 3000