Experts at Dablew.pk had been been using the Blitzwolf BW-FYE1 True wireless earbuds as their daily since they received them and were delighted to be able to review the FYE5, a different version of them.
These super-cool TWS earbuds come in a small pill shaped charging case, with small circle shaped earphones. With 1.5 hours of continuous listening, and the ability to be charged 3 times by the case, the BW-FYE5 are a nice set of economical yet truly wireless earphones.
In the package, you get the earphones themselves, three different sizes of earphone, and a micro USB charging cable. The earphone case is nicely made, out of tough plastic, and snaps closed with magnetic assistance. The earphones snap into their charging docks with magnetic assistance, which is also a very nice touch. Battery level for the charging case is shown in a round circle of lights.
Pairing the BW-FYE5 is easy – simply pair the right earphone to your phone, and then it automatically pairs to the left. The earphones switch on and off automatically as you put them in the charging case.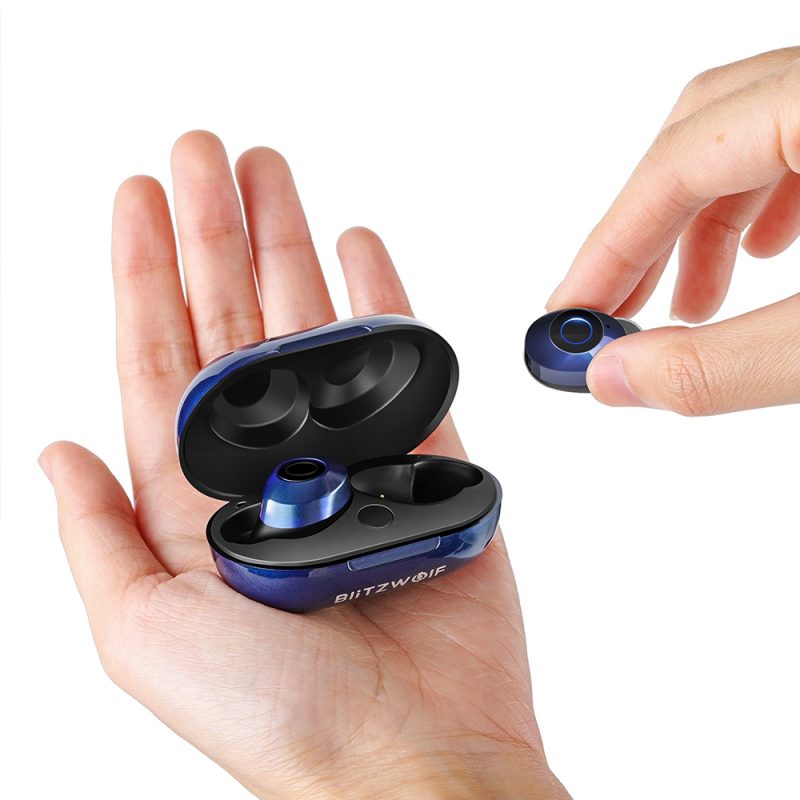 Build & Fit
The earphones themselves are very small and are made out of plastic. These are small earphones – they fit in the 'hollow' in your ear, and the case itself is pretty small.
The earphones are pretty comfortable – as our experts mentioned, they can feel a little loose at times, however in the time that they had been using them, they have never fell out. The case has no sharp edges, so it's very comfortable to have in your pocket whilst you use the earphones.
They are well put together internally, with high amounts of bass struggling to cause rattling sounds.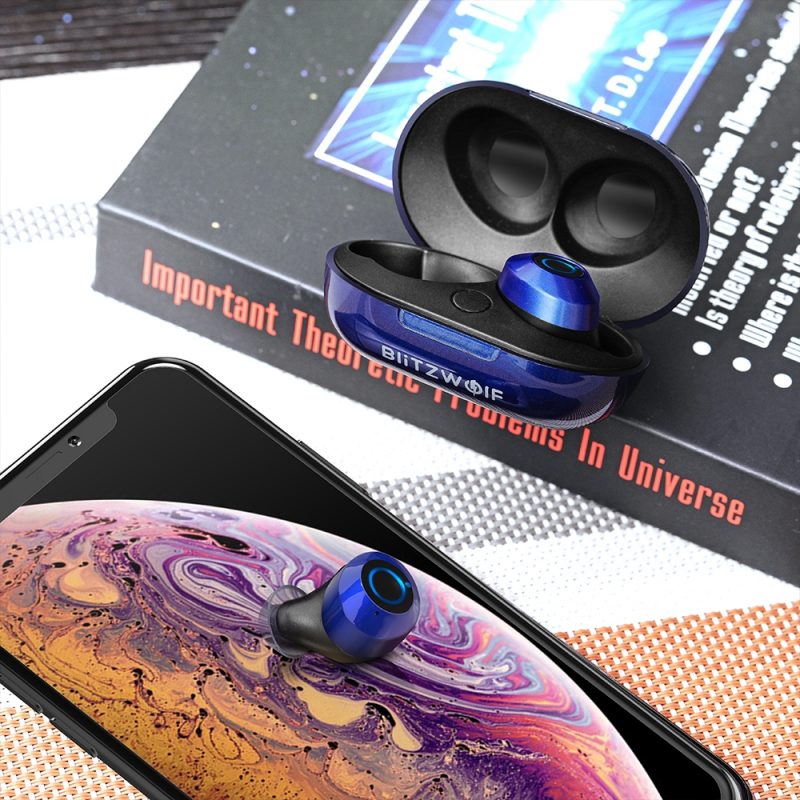 Sound
Definitely, no complaints here. Our experts mentioned that BlitzWolf's wireless speakers are bass boosted. The earbuds definitely sound natural with a good balance of bass and treble. Additionally, we definitely wouldn't call the bass weak. Given our experience with bass-heavy speakers, these are definitely a lot more comfortable to wear.
The quality continues to remain crisp even at higher volumes. we have not experienced any distortions or echoing. These will definitely get the job done for the majority of users.
The connectivity distance is strong. If you are within a 10-meter radius of your device, you won't experience any static or cut-offs. We left the phone downstairs stairs at our Physical Tech store at Zamzama Karachi, surprisingly, the music was still playing as we went upstairs. Only when we walked outside the store did we experience the cut-offs. However, that definitely is stretching the capabilities of Bluetooth 5.0 quite a bit.
The BW-FYE5 are a decent set of truly wireless earphones. We would definitely prefer the FYE5, as they are comfortable, and we find the sound to be just AWESOME.
And of course, new stock of BlitzWolf BW-FYE5 is exclusively available at Dab Lew Tech. Simply, click at the product below to make your purchase and cheapest prices in Pakistan. Not just that, we also have two exciting colors to offer you !!
Dablew.pk is the upcoming branded tech store on the verge of conquering the e-commerce market. Here you will find products from many online stores from around the world. From amazon Hot sellers to AliExpress top sellers in Pakistan, you name it, we have it. Our goal is to be the best tech store in Pakistan, in order to give you best online shopping experience in Pakistan. Our products range is something we take pride on. We like to cater to all our loyal customers out there. We deal in cheap original tech products as well as premium high-end products. When you visit our website, you will see the hottest selling products in Pakistan, Products on sale, new arrivals as well is featured products. Dablew is your go to place to find the best technology related products on Pakistan. Coming on to the Brands we sell. We have official stores of multiple brands such as QCY official store, Tronsmart official store, MPOW official store, Apple official store, Minix official store, Xiaomi official store, Ravpower official store and Whitestone Domes. Quite a list, isn't?. Finally, we are known to provide customers with best TWS earphones, best earbuds and best headphones in Pakistan. This is because we realise how important Music is for our customers. And top it off, We provide FREE cash on delivery on all your purchases above Rs. 3000