The smart watches have brought the whole world on our wrists. These are not called smart watches just because they tell us the time but these smart watches provide us all the multi-functions that are very necessary for us to keep check and balance on our health & precious time. With the help of the sensors attached to the smart watches, we can track our heart & pulse rate 24/7 (with proper graphs). By connecting them with the Bluetooth, we can control Music, Weather Forecast & Notifications (including SMS, Calls and all other social apps).  These smart watches also includes functions like count-down, stopwatch, Calorie counter & alarm clock to help us in maintaining our fitness and provide us a complete record of our steps, running distance covered and burned calories .This function of the smart watches really plays an important role in the betterment of our fitness progress. The fitness tracker of these smart watches also guides us on how to relax from stress by breath training. These smart watches will also provide us a route map after connecting it with our smartphone's GPS. The one of the most admiring benefit of the smart watches is that they can run for a long period of time (at least 15 days) with a charge of just few hours.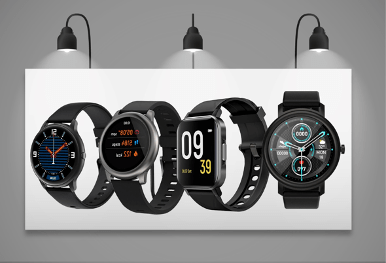 These smart watches are IP68 water and dustproof due to which can wear them without being afraid of rain & sweating. They enable us to keep the records of our daily fitness and also that of sleep routine (including the time of our deep sleep, light sleep and the time when we are awake) with the help of its various Sports Modes. If we call them Business casual smart watches then we'll not be considered wrong. These smart watches usually operates between a temperature range of 20oC to 45oC. These light weighted smart watches also provide soft and comfortable watch straps for long wear which are interchangeable. These watches have a resolution of about 240×240 Pixels which enables us to operate its functions with ease. Last but not the least, with the help of these smart watches we can easily find our lost phones. We can also change the watch face at our own desire similar to what we are wearing today with no difficulty.
If you are looking to get yourself a cool smartwatch in Pakistan, just visit www.dablew.pk and get your favourite smart watch and reasonable prices and excellent aftersales service. Dab Lew Tech has a solution to all your tech related wants. Products at www.dablew.pk are at cheapest prices in Pakistan, you can find products which are Amazon Hostellers and Hot on Aliexpress and much more!
Haylou Official Store Pakistan