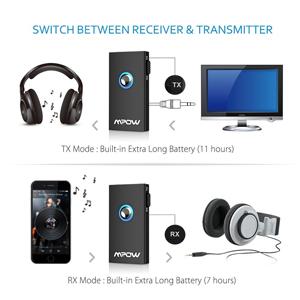 Magic Mpow Bluetooth Receiver/Transmitter
TX Mode: To use as a Bluetooth transmitter
Selecting mode: please slide the switch into TX before power on Mpow Streambot 2-In-1.
RX Mode: To use as a Bluetooth receiver
Selecting mode: please slide the switch into RX before powering on Mpow Streambot 2-In-1.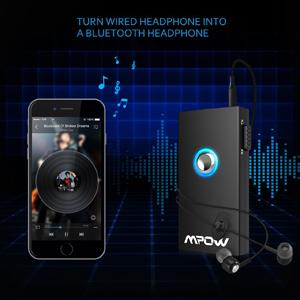 Specification
– Bluetooth specification: V3.0
– Bluetooth profiles: A2DP and AVRCP
– Frequency range: 2.402GHz-2.480GHz
– Operating distance: Up to 10 metres
– Charging input voltage: DC 5V
– TX Mode: Up to 8 hours
– RX Mode: Up to 6 hours
– Charging time: About 2 hours
– Dimensions: 51 x 27 x 11mm
– Weight: 0.4oz (11.6g)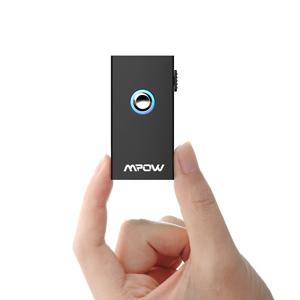 Notes
1. Selecting mode must be done before power on.
2. TX or RX mode cannot be changed after power on.
3. The pairing mode will last around 2 minutes. It will turn to standby mode if there is no device can be connected within 2 minutes.
4. The transmitter can only pair with one Bluetooth device.
5. The transmitter will automatically connect to the last connected device after turn on.
Mpow Streambot 2-In-1 is a versatile gadget that can be used to either transmit or receive music wirelessly.
Receiver:
Wirelessly connect to speakers, headphones and more. At a simple 3.5mm-connection to your non-Bluetooth speakers or headphones, you can stream music wirelessly from your host devices (smartphones, tablets, laptops) as if by magic. Enhanced tunes at your fingertips – enjoy them in a fresh new way.
Transmitter:
Wirelessly connect to media players, e-readers and more. You may connect it to your TV and enjoy exclusive late night shows, all without disturbing your loved ones while they sleep.
With a simple 3.5mm audio connection, give your media players (MP3, CD / DVD players, car audio systems, TVs), and e-readers Bluetooth connectivity. Stream music from the music players, and audiobooks from your Kindle Fire, to your Bluetooth-enabled speaker – all in a convenient, wireless way.
NOTE:
Please use 5V standard charger to charge this product. Do not use quick charger/flash charger which is more than 5V to charge this product which may destroy the product as it only supports charging at 5V.
Specification:
Bluetooth specification: V3.0
Bluetooth profiles: A2DP and AVRCP
Operating distance: Up to 30 feets
Working time:TX Mode: Up to 8 hours
RX Mode: Up to 6 hours
Charging time: About 2 hours
Dimensions: 51 x 27 x 11mm
Weight: 11.6g
Package included:
1 x Mpow Streambot 2-In-1 Bluetooth Receiver and Transmitter.
1 x Micro USB charger cable
1 x 3.5mm Audio cable
1 x User Manual